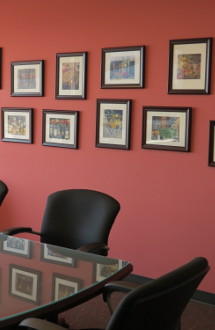 Mediation is a voluntary process during which parties work to resolve their dispute by agreement. Mediation offers you the opportunity to be creative in resolving a dispute and to consider the best way to meet your needs and the needs of your spouse (or former spouse or partner). The goal is to resolve your dispute as amicably and financially efficiently as possible.

Traditionally, Mediation is conducted with both parties in the same room with the Mediator, who serves as a facilitator of the conversation. The Mediator helps the parties communicate their needs, goals and desires. A Mediator is a neutral party. A Mediator does not give legal advice to either party individually. A Mediator does not advise either party whether a proposal is in his or her best interest. The Mediator's work is to assist the parties in working out an agreement that resolves their dispute, as well as to assist them in how to approach future disagreements.

The Mediation process can be flexible and confidential. Mediation of a single issue, such as an adjustment of the child support payment or a change in a parenting plan, usually can be accomplished in one session of 2-4 hours. If there are more issues, longer blocks of time can be reserved. If you want to need to mediate the entire dissolution or separation, please see "How it works - Settlement".

You do not need to have an attorney present for Mediation. However, you may wish to consult with an attorney before a final agreement is signed. One party must retain an attorney as the Mediator can not prepare the necessary Order(s) resulting from your agreement. Mediation gives you the optimum opportunity to control the outcome of the process and to decide how to resolve your dispute. There is no agreement unless both parties agree.